Turn Back the Hands of Time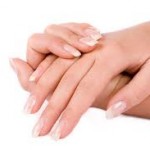 Our hands go through a lot on a daily basis. Frequent washing, sun exposure and exposure to chemicals are just some of the things that can dry out your hands and ruin a perfect manicure. I wash my hands so frequently as a part of my job (and a mild case of germaphobia) that my hands end up looking rough, dry, and uneven looking. I am getting married this September, and I find more and more people looking at my hands to "see the ring," but my dry, rough hands make me embarrassed to show it off!
Fortunately, I have a few tricks up my sleeve to help our hands from looking older than they actually are. For patients who are concerned about dark spots or hyperpigmentation on the back of the hands, I recommend IPL treatments. This treatment is gentle, fast enough to truly be a "lunchtime procedure", and has essentially no downtime. IPL treatments on the hands help to gradually fade dark spots and help to stimulate collagen. I recommend 3-5 treatments done a month apart for best results.
Another option for rough or aging hands is getting a medical-grade chemical peel on the hands. Like chemical peels on the face, neck or chest, we can select the peel type depending on your skin's needs. The peel is fast and easy with minimal irritation, and your hands may or may not actually "peel" depending on the type of treatment we select. We can do peels as often as every 2 weeks (in a series of 4 peels, done once or twice yearly). They soften the skin and smooth out rough, uneven skin texture for an instant improvement in their feeling and appearance.
I don't want to give away all my secrets, but I also recommend medical-grade skin care products for at-home hand care. I can even inject dermal fillers in the backs of hands to replace lost volume! Whether you choose to treat your hands with IPL, chemical peels, filler or topical products, it's important to protect your hands from excess sun exposure and harsh chemicals to keep your paws looking perfect. I like to keep a tube of SPF 30 or higher in my car and apply to the back of my hands before I drive anywhere. I prefer sunscreen with either zinc oxide or titanium dioxide ("physical" sunscreen vs. "chemical" sunscreen) because it creates an immediate physical barrier between your delicate skin and aging UV rays.
Wondering which hand treatment is best for you? Come in for a consultation and let's discuss your options and what would work best for your lifestyle and skin needs. Call Horton SPA today at (415) 923-3067 to set up an appointment.
Wishing you health and happiness,
Courtney McSpadden, NP
Aesthetic Nurse Practitioner at Horton SPA