What is "fat freezing" all about? Does CoolSculpting work?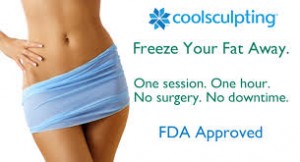 What is the only treatment proven to freeze your fat for a permanent sculpting of stubborn fat deposits that persist despite a healthy diet and regular exercise?  CoolSculpting!  
What is CoolSculpting?  Only the most exciting non-surgical permanent fat reduction system available in our office!  CoolSculpting is a non-invasive, clinically proven procedure to selectively reduce stubborn fat using a patented cooling technology.
Fat freezing is a safe procedure cleared by the FDA that gently cools unwanted fat cells in the body to induce a natural, controlled permanent elimination of fat cells. This reduces fat in treated areas of the body without harming surrounding tissues.  Read our blog posts about the science and safety behind CoolSculpting, and hear about our own treatment experiences with this fat reduction treatment!
CoolSculpting helps you say goodbye to stubborn fat and say hello to the body you once had, and deserve to have NOW, this fall!  CoolSculpting is the only clinically proven, FDA-cleared, totally non-surgical treatment that reduces fat in trouble areas like the belly, sides of the abdomen and around the back of the mid-section.
Who isn't familiar with the terms "muffin tops", "love handles" or "spare tires"?  Stubborn collections of fat in the mid-section, flanks (as we call them in Plastic Surgery) and around the back can cause your your shirt to gather, bunch in an unattractive way or clothes to not drape as nice as they should!  CoolSculpting is perfect for women and MEN, and allows you to reduce an area of fat by up to 25% in a single hour treatment!
CoolSculpting is a revolutionary new technology targets and freezes stubborn fat cells, so your body can eliminate them naturally over a few months – it's totally non-surgical without the downtime of liposuction.  Most people see an undeniable reduction of fat after just one CoolSculpting treatment. It's FDA-approved, safe and TOTALLY COOL!
CoolSculpting PERMANENTLY reduces fat up to 25% in a single hour, performed in Dr. Horton's office without surgery or downtime.  Patients who get CoolSculpting done can expect to see a noticeable reduction of fat in the treated area. And the treated fat cells are gone for good. If patients maintain a healthy lifestyle, the results of their procedure are long lasting and durable. Additional treatments in the same or multiple areas may help enhance the desired aesthetic effect.
With no needles, no scalpels, incisions, anesthesia or surgical downtime, how can you go wrong?
To schedule a COMPLIMENTARY CoolSculpting consultation complete our online request form today or call 415-923-3067!