CoolSculpting for summer: 10 reasons why!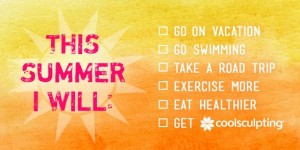 There are SO many reasons why CoolSculpting is the BEST treatment you can get in preparation for summer!
While we have lots of reasons of our own at Horton SPA, the CoolSculpting company Zeltiq themselves have some great images we want to share with you – with our thoughts, of course!
While New Year's resolutions are long-gone and it's nearly July, our intentions are still good and we STILL want to look our best, especially in summer weather!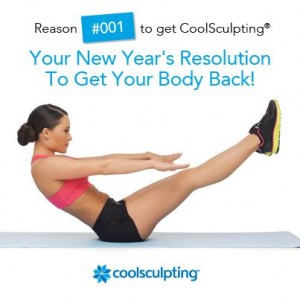 In fact, NOW is the time when we really want to show off our hard work at the gym, from eating healthy and trying our best to lead a healthy lifestyle.
CoolSculpting is a treatment that can be done year-round, with results evident in 1-2 months and peak results seen in just 6-12 weeks post-procedure!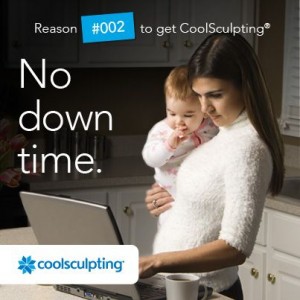 Why do our patients love CoolSculpting?  Because there is NO DOWN TIME.  Seriously!
After CoolSculpting, you can go to work the next day, exercise, and resume your usual activities without incisions or surgical downtime (such as after with liposuction, which is also an incredible procedure that has even more dramatic results but requires around a week off work, with major bruising, swelling and some mild physical discomfort).
Working men and women, full-time stay-at-home Moms, and other busy people can have their CoolSculpting treatment and carry on with their lives while the results become evident over the next 60 days.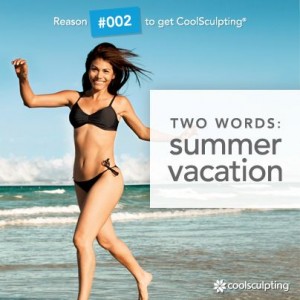 In fact. CoolSculpting has so many incredible reasons to be considered, there are TWO reasons listed at #2!  Coming up very soon for many of us…  SUMMER VACATION!
I personally call my summer vacation my "3 B's vacation = bikini, bare feet & beer"!  I go back to Canada every summer for a couple of weeks and that is exactly what we do:  hang out in bathing suits in the hot, muggy summer weather, enjoy water sports and socializing with friends and family.
We want to look our best at the start of our leisure time, given that we tend to overindulge in food and drink when on vacation.  So we turn to CoolSculpting to help us achieve permanent fat reduction going into summer!
I tried CoolSculpting myself with significant results last year – read about my personal experience with CoolSculpting in my blog post.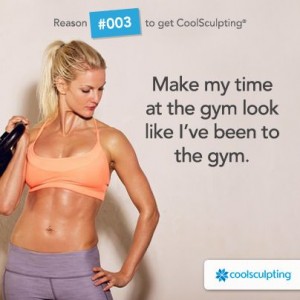 Most Bay Area women and men lead a healthy lifestyle, and they want their body to reflect that!  However, there are genetically determined STUBBORN fat deposits we are prone to hang on to despite being physically active and being fit and healthy overall…  That's where CoolSculpting can help!
CoolSculpting targets stubborn, distinct deposits of fat that tend to be genetically determined (we all have them) – so that you can look as physically fit and show off your muscle tone, hidden underneath this annoying fat!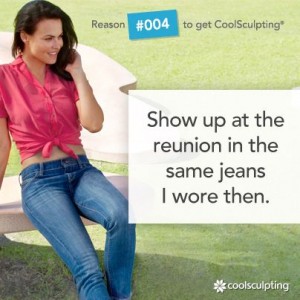 While high school and college reunions aren't until the fall, they are still in our minds, and who doesn't want to look their best when they see their peers!
Particularly when we have all aged since last seeing each other – so we want to reflect that image of who we were back then!
CoolSculpting can help fight and reverse some of the consequences of aging – such as putting on excess fat despite eating less and being committed to being healthy!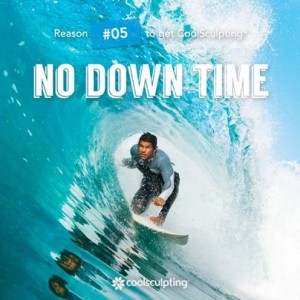 CoolSculpting has no downtime!  That's right NO DOWN TIME!  You can exercise the next day, carry on with work, play and other responsibilities!  The results of CoolSculpting begin to be evident at 30 days (1 month), with around 70% of the results visible at 60 days (2 months), and the final results by 4 months!
After a CoolSculpting treatment, we call our patients back in for assessment of their results at the 60 day mark, where we take follow up photos and determine whether a second treatment would be beneficial.
Most patients do NOT need more than two treatments of any one area; many have incredible results after a single CoolSculpting treatment!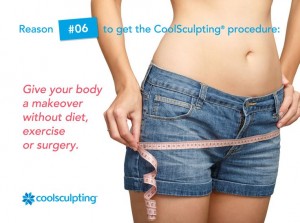 While we do recommend a healthy diet, regular exercise and overall active lifestyle for our patients, CoolSculpting is something that nearly anyone can do for a dramatic change in their body!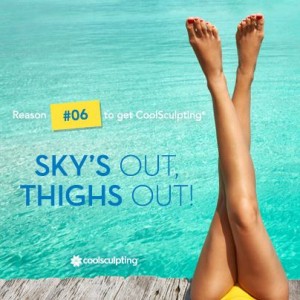 There are also two #6's!  While CoolSculpting cannot guarantee a "thigh gap" sought by many young women these days, CoolSculpting can help to contour the inner and outer thighs.  Read our blog post about the flat applicator for CoolSculpting specifically designed to reduce fat in the thighs!
Dr. Horton evaluates our patients together with our CoolSculpting experts Emily Sespaniak, NP and our CoolSculpting expert Jenny Do, to assess which treatment is best for them:  non-surgical fat reduction using CoolSculpting or a surgical approach such as liposuction or a tummy tuck.
Some patients are better suited for surgery, and for those patients, we counsel and educate them appropriately.  However, many patients are indeed great CoolSculpting candidates; they reap the benefits of non-surgical, PERMANENT fat reduction without needles, downtime or surgery!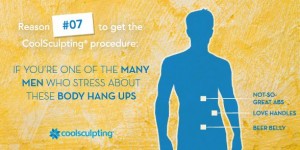 CoolSculpting is a perfect body contouring procedure for MEN!
CoolSculpting is often MORE effective than liposuction at targeting those stubborn areas of fat that persist despite our best efforts – areas such as the flanks – also known as the muffin top, beer belly or spare tire.
Learn more about CoolSculpting is ideal for men in our blog posts.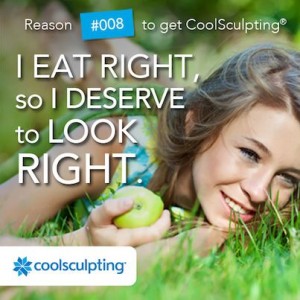 In San Francisco and the entire Bay Area, we are foodies!  While we love our food, we love good quality food, and we pride ourselves on eating well.
That means we DON'T pig out on fast food, garbage or empty high calorie options.  Rather, we eat RIGHT!
And we deserve to look like we eat well and healthy too!  CoolSculpting can help our bodies reflect how well – and healthy – we live, including reflecting what we put into our bodies.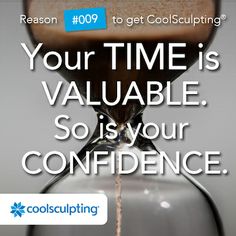 Who has spare time for surgical recovery?  While many of Dr. Horton's patients do, in fact they PLAN for surgery and schedule time off work, life, exercise and their regular routine in order to schedule a body contouring procedure such as liposuction or a tummy tuck.
CoolSculpting has NO down time!  Exercise, work and regular activities such as child care, travel and other responsibilities can carry on the day after a CoolSculpting procedure.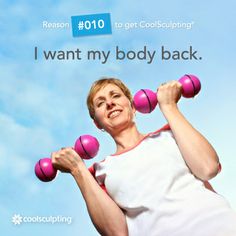 This is my FAVORITE reason to consider CoolSculpting!  We look in the mirror and think "where did my body go?"!
While we cannot fight age, genetics, hormonal changes and other circumstances such as injury, work-related responsibilities and child care, we remember our bodies when they were younger, more fit and toned!  CoolSculpting can help to counteract many of these changes and to get our bodies back!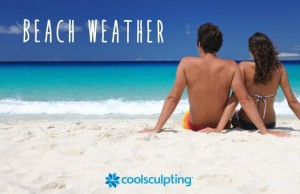 CoolSculpting really is AMAZING.  I am a true believer, seeing incredible results in our office staff, my own family and our patients!
As a Board Certified Plastic Surgeon who strictly believes in SCIENCE and only FDA-approved, clinically studied and proven procedures, I am a true believer!  Read our many blog posts about CoolSculpting, its science and safety, patient experiences, our own experiences and more!
So to celebrate beach weather, you should celebrate your healthy, fit and active body!
To schedule your CoolSculpting consultation, complete our online consultation request form or call 415-923-3067 today!